November 25, 2019
Auto Insights: Black Book's Steepest Decline Since January
Black Book announced some stirring news in their Market Insights last month.
The industry's leading dealership insight platform revealed that "used vehicle values experienced the steepest decline of any week since January of this year."
What does that mean for dealerships? Let's explore how these statistics and projections may affect your pre-owned lot now and well into the new year.
Cars Are Depreciating Faster
The rate of used vehicle depreciation is increasing, according to Black Book.
"Volume-weighted, overall car segment values decreased by 0.65% last week," they stated as of October 29th, 2019. "In comparison, the market values were down by 0.52% on average during the prior 4-week period," they share for reference.
Here's a graphic pulled from their Black Book Visual Analytics to showcase the drop in value from 2014-2018 models in the last year: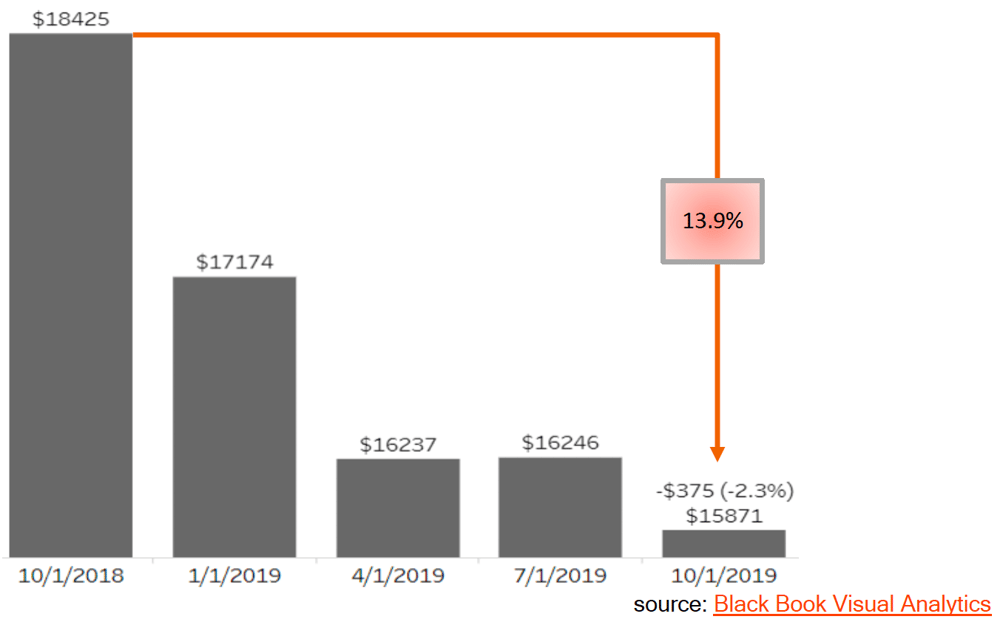 "The depreciation trends of a 2- to 6-year old used vehicle in the last 12 months are running at 13.9%, about two percentage points higher than the same time last year, in line with our projections."
Used car values are dropping— there's no doubt about it. But which vehicles are most affected?
The Highest Decline in "Cars"
Let's start by examining the "car" segment of the market.

Black Book data reveals that the pre-owned categories most affected by depreciation are Sub-Compact and Sports cars, with Near Luxury and Full-Size cars not far behind.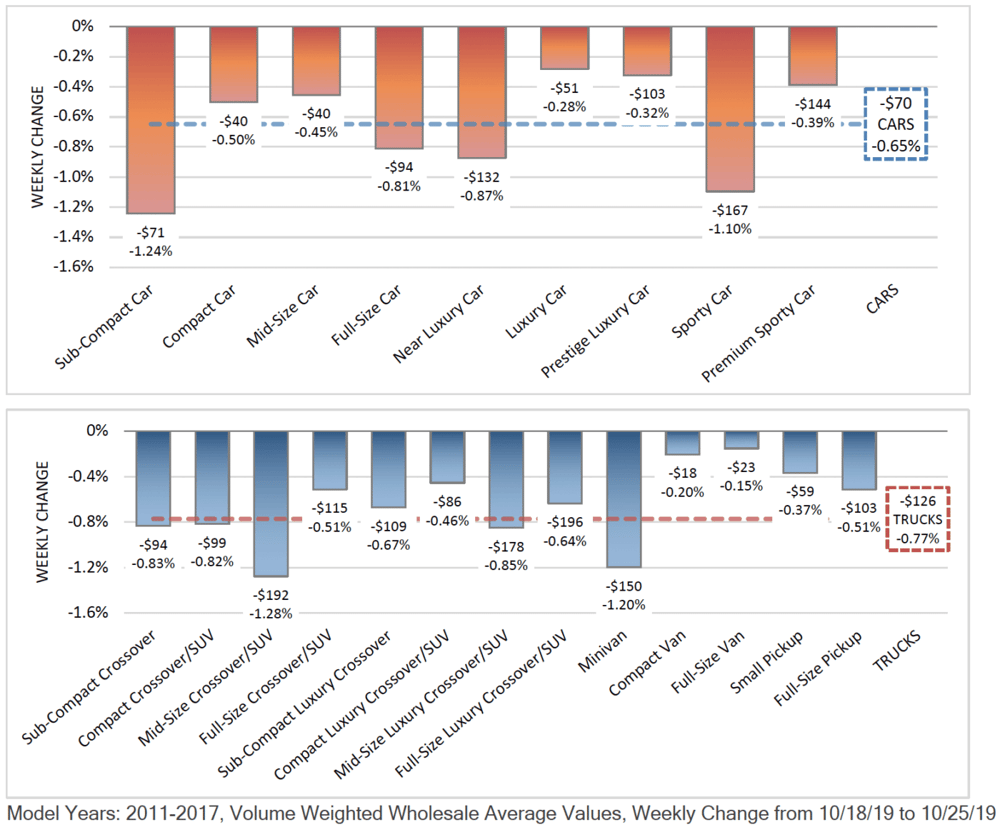 The Highest Decline in "Trucks"
Black Book also analyzed Market Insights for the "trucks" category, finding that Mid-Size Crossover / SUVs and Minivans values declined the most out of this group of pre-owned vehicles.
With once popular staples rapidly losing value, some dealerships are struggling to profit. "The sentiment appears to be negative, setting the expectation for the market to drop more," said Anil Goyal, Executive Vice President of Operations in the Black Book report.
Simply put, auto dealerships everywhere are being forced to invest in better performing used inventory, or cars that are appealing to both their profit margin and their customers.
In their report, industry leaders and observers are commenting on this change, sharing their sentiments about this intimidating decrease in the value of their used inventory.
"The demand is still there for the nicer vehicles," stated a dealer from Pennsylvania in the report, "As for the others, it is all about the price they are offered for." In addition, another dealer in Tennessee adds, "Dealers continue to describe a tough retail market, resulting in a lot of no sales."
The reality is that pre-owned lots are drowning in inventory that isn't moving— continuing to cut into a dealer's bottom line with each passing day.
The Solution Your Dealership Needs
Dealerships need to change their pre-owned inventory acquisition strategy to stock cars that historically turn quickly and have a low market days supply— to offer vehicles which provide the most return for their sales teams while still holding value in the eyes of their customers.
While these market reports often fluctuate, it's imperative for dealers to keep up with the ever-changing auto landscape, and be mindful of the inventory that can maximize their profit and return on investment instead of bleeding their used lots.
How CarOffer Can Help
With the help of CarOffer's Buying Matrix™, dealers can buy pre-owned inventory they want — at the price they specify — 24 hours a day.
Curious to try this revolutionary platform yourself? Request a free demo with CarOffer today.